Discounted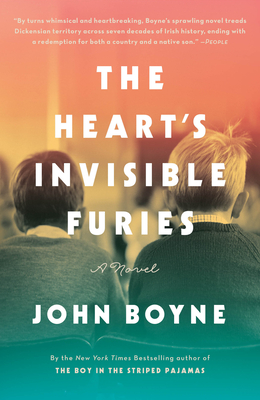 The Heart's Invisible Furies: A Novel
Previous price:

$19.00
Current price:

$18.00
Publication Date:
March 6th, 2018
Usually Arrives Within 7-10 Days
This is the novel John Boyne was born to write: A brilliant book of identity and redemption, both heartbreaking and humorous, intimate and expansive. Cyril Avery has been constantly reminded he doesn't belong, first by his adopted parents, then by the church and his country. As we follow him on his journey to acceptance, we are shown the cruelty of fate and the surprising kindness of ordinary people. Boyne perfectly constructs every story told, unveiling the humor and hypocrisy of humanity in each character and illuminating how the arc of Cyril's story is also the arc of modern times. An amazing feat from the first page to the last.
September 2017 Indie Next List
Description
Named Book of the Month Club's Book of the Year, 2017
Selected one of New York Times Readers' Favorite Books of 2017
Winner of the 2018 Goldsboro Books Glass Bell Award 
From the beloved New York Times bestselling author of The Boy In the Striped Pajamas, a sweeping, heartfelt saga about the course of one man's life, beginning and ending in post-war Ireland
Cyril Avery is not a real Avery -- or at least, that's what his adoptive parents tell him. And he never will be. But if he isn't a real Avery, then who is he?
Born out of wedlock to a teenage girl cast out from her rural Irish community and adopted by a well-to-do if eccentric Dublin couple via the intervention of a hunchbacked Redemptorist nun, Cyril is adrift in the world, anchored only tenuously by his heartfelt friendship with the infinitely more glamourous and dangerous Julian Woodbead. At the mercy of fortune and coincidence, he will spend a lifetime coming to know himself and where he came from - and over his many years, will struggle to discover an identity, a home, a country, and much more.
In this, Boyne's most transcendent work to date, we are shown the story of Ireland from the 1940s to today through the eyes of one ordinary man. The Heart's Invisible Furies is a novel to make you laugh and cry while reminding us all of the redemptive power of the human spirit.
Praise for The Heart's Invisible Furies: A Novel
Praise for The Heart's Invisible Furies:
Finalist for the 2018 LAMBDA Literary Awards
Finalist for the 2018 Ferro-Grumley Award for LGBTQ Fiction
"By turns whimsical and heartbreaking, Boyne's sprawling novel treads Dickensian territory across seven decades of Irish history, ending with a redemption for both a country and a native son." 
– People
"Bleak, bittersweet, and Irish to the bone... explore[s] the relationship between Catholicism and patriarchy in midcentury Ireland and beyond."
– O, The Oprah Magazine
"A picaresque, lolloping odyssey for the individual characters and for the nation that confines them…The book blazes with anger as it commemorates lives wrecked by social contempt and self‑loathing…. a substantial achievement." 
– The Guardian
"With intricate narrative precision, The Heart's Invisible Furies cuts to the heart of what family is, how it is chosen, and how it endures. And it is charming and funny, even as it dives down from the precipice of endearing humor into the very specific ironies and cruelties of real life…. characters are cinematically rendered, with a deft, decadent wit that will make you laugh aloud at least once. Searing heartbreak; loneliness; a quest for internal and external redemption, solace, and contentment are all there in The Heart's Invisible Furies."
– The Millions
"This is nothing less than the story of Ireland over the past 70 years, expressed in the life of one man…highly entertaining and often very funny…Big and clever." 
– The Times Sunday Review
"An epic full of verve, humour and heart… sure to be read by the bucketload… deeply cinematic [and] extremely funny." 
– The Irish Times
"Boyne writes scenes that will make a reader laugh and cry—without saccharine sentiment or flippancy. Infused with heart and humor, as well as a keen sense of man's capacity for cruelty, The Heart's Invisible Furies pulsates with life's complexity and progress' slow march." 
– Paste
"A big, sweeping novel...Cyril's intelligent, witty voice takes us all the way through to the end of his life. The Heart's Invisible Furies is a brilliant, moving history of an Irishman, and of modern Ireland itself." 
– Minneapolis Star Tribune
"The most inviting and completely spellbinding book this author has ever written...an outstandingly memorable achievement." 
– Christian Science Monitor
"This in-depth look at the life of one adopted man in post-war Ireland will make you laugh, weep, and live-tweet at two in the morning." 
– Brit + Co
"More than a coming-of-age story, The Heart's Invisible Furies is one man's journey from persecution to toleration….The novel… delights."
– BookPage
"Enchanting... Boyne explores Cyril's life in luscious detail… With evocative descriptions of each city and fateful plot turns that twist the narrative in surprising ways, Boyne adroitly captures Cyril's shifting identity as he grapples with nationality, class, and sexuality. The book becomes both an examination of Cyril's life and a catalogue of Western society's evolution from post-war to present day, with all its failings, triumphs, complexities, and certainties… The life of Cyril Avery is one to be relished." 
– Publishers Weekly
"Boyne, who has a wonderful gift for characterization, does a splendid job of weaving these various lives together in ways that are richly dramatic, sometimes surprising, and always compelling… Often quite funny, the story nevertheless has its sadness, sometimes approaching tragedy. Utterly captivating and not to be missed." 
– Booklist (starred review)
"With quick strokes and bitter humor, Boyne's opening scene encapsulates the Irish church's hypocrisy… Boyne continues his crusading ways with the quiet keening of this painful, affecting novel" 
– Kirkus (starred review)

"Cyril's life story is extraordinary, tragic, and triumphant… Boyne dedicates his wise, beautiful 15th novel to John Irving. This tribute fits a story calling to mind the humane sagas of T.S. Garp, Owen Meaney, and the humble tale of Piggy Sneed. Readers will fall in love with Boyne's characters, especially Mrs. Goggin and Cyril's adoptive mother, Maude Avery, in this heartbreaking and hilarious story." 
– Library Journal
 
"By turns savvy, witty, and achingly sad…This is a novelist at the top of his game."
– Mail on Sunday
 
"An epic novel…. The Heart's Invisible Furies proves that John is not just one of Ireland's best living novelists but also one of the best novelists of Ireland."
– Express
 
 "Boyne creates lightness out of doom, humour out of desperately sad situations… a terrific read."
– Press Association