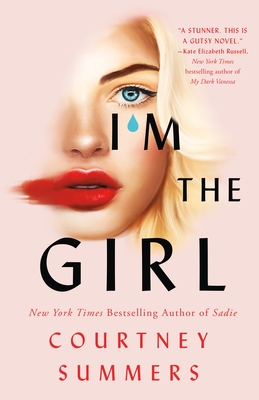 I'm the Girl
Publication Date:
September 13th, 2022
Publisher:
Wednesday Books
Usually Ships in 1 to 5 Days
Description
The next searing and groundbreaking queer young adult novel from New York Times bestselling and Edgar Award-winning author Courtney Summers, already hailed as...
"A stirring, thought-provoking thriller."—Ashley Audrain, New York Times bestselling author of The Push
"A stunner."—Kate Elizabeth Russell, New York Times bestselling author of My Dark Vanessa
"Powerful."—Angeline Boulley, #1 New York Times bestselling and Printz Award-winning author of Firekeeper's Daughter
All sixteen-year-old Georgia Avis wants is everything, but the poverty and hardship that defines her life has kept her from the beautiful and special things she knows she deserves. When she stumbles upon the dead body of thirteen-year-old Ashley James, Georgia teams up with Ashley's older sister Nora, to find the killer before he strikes again, and their investigation throws Georgia into a glittering world of unimaginable privilege and wealth--and all she's ever dreamed. But behind every dream lurks a nightmare, and Georgia must reconcile her heart's desires with what it really takes to survive. As Ashley's killer closes in and their feelings for one another grow, Georgia and Nora will discover when money, power, and beauty rule, it's not always a matter of who is guilty but who is guiltiest--and the only thing that might save them is each other.
A spiritual successor to the breakout hit Sadie, I'm the Girl is a brutal and illuminating account of how one young woman feels in her body as she struggles to navigate a deadly and predatory power structure while asking readers one question: if this is the way the world is, do you accept it?
Praise for I'm the Girl
Praise for I'm the Girl:
A September/October Kids' Indie Next pick
Apartment Therapy, "If You're Going to Read One Book in September, Make It This One"
Autostraddle, "103 Queer and Feminist Books Coming Your Way Fall 2022"
Book Riot, "11 September Mystery & Thriller Books to Read", "30 Of the Buzziest, Best Fall Books Of 2022", "New Releases Tuesday: The Best Books Out This Week"
BuzzFeed, "All The Best Books Releasing In September"
Bookish, " September's Most-Anticipated Books"
Bustle, "Most Anticipated Books Of September"
CBC, "65 works of Canadian fiction to watch for in fall 2022" and "27 Canadian books we can't wait to read in September"
CrimeReads, "The Most Anticipated Crime Books of Fall 2022"
Daily Hive, "12 hot-off-the-press books we recommend reading this September"
E!News, "Books to Read in September"
Epic Reads, "The 20 Most Anticipated YA Books to Read in September"
GoodReads, "39 of the Most Anticipated YA Books for the Rest of the Year" and "September's Highly Anticipated Young Adult Books"
Kirkus, "150 Most Anticipated Books of the Fall"
LitHub, "Gothics, Whodunnits, Psychologicals, Historicals, and More: 19 Young Adult Reads for the Summer"
Paste Magazine, "The Best New YA Books of September 2022"
Publishers Weekly, "New and Noteworthy Children's and YA Books: September 2022"
SheReads, "Best YA Thrillers Coming in 2022" and "Best Books of Fall 2022"
The Honey POP, "September Book Releases to Welcome Fall"
The Lesbrary, "34 Bi and Lesbian Books Out September 2022"
United by Pop, "13 Must Read YA Book Releases For September 2022"
USA Today, "5 Best New Books of the week"
"Summers' latest masterful thriller takes on the world of wealth and privilege to examine questions of power, predatory behavior, and, ultimately, complicity, and agency... a heartbreaking, brutal, and devastatingly realistic novel." - Kirkus Reviews (starred review)
"[An] emotionally raw and brutally captivating novel...Summers expertly weaves together drama, mystery, and romance via George's guileless narration for an intense look into one girl's wish to be seen as mature, and the powers that manipulate her, in this powerful, ultimately hopeful performance." - Publishers Weekly (starred review)
"From the opening scene, Summers propels readers into an unwavering staring contest with some of the darkest truths the world has to offer young women...A powerful and important story." - School Library Journal (starred review)
"Courtney Summers books are not for the faint of heart." - The New York Times Book Review
"Devastating yet honest...Courtney Summers's eighth YA novel--part murder mystery, part thriller, part queer romance--is a brutal, raw account of truths behind power and privilege." - Shelf Awareness
"Brutal and bold...a raw and crushing page-turner." - Booklist

"Courtney Summers is an absolute expert at crafting unflinching thrillers, and this one is one of her best." - Buzzfeed, "40 Highly Anticipated YA Books You'll Want To Check Out This Summer"
"Summers is a master of the Culturally Necessary Life Ruiner, and she's in fine form here with her newest thriller, inspired by the horrors of Jeffrey Epstein." - Buzzfeed, "23 New LGBTQ+ YA Novels To Chill With This Summer"
"...prepare for a fast-paced thriller with biting social commentary that is simultaneously tough to get through, but impossible to put down." - Buzzfeed, "Highly-Anticipated LGBTQ+ Books That Are Set To Be Released In The Latter Half Of 2022"
"Are you still emotionally recovering from Courtney Summers' 2018 breakout YA novel, Sadie, and its portrayal of the power of sisterhood in the face of the darkest aspects of patriarchy and misogyny? Then you may want to begin preparing now for I'm the Girl, a standalone thriller that sees Summers return to similar themes but turns the emotional turmoil up to 13. And yes, we know the emotional turmoil dial only goes to 10." - BookPage, "Fall 2022 preview: Most anticipated YA"
"No one writes about teen girls and young women like Canadian novelist Courtney Summers." - Elle Canada, "12 Buzzy Books You Need to Read This Fall"
"I'm the Girl is an intense and heartbreaking exploration of patriarchy, violence against women, and objectification. I highly recommend this queer, feminist YA thriller." - Her Campus, "3 Upcoming Books to Read in the Next 3 Months"
"A primal scream of a book...Some of the most riveting writing I have ever seen." - The Nerd Daily, "Five Reasons To Read 'I'm The Girl' by Courtney Summers"
"I'm The Girl is an unflinching, electric examination of the patriarchal power we expect young women to confront at a time in their lives when every message we send tells them otherwise. Summers cuts into the constructs of beauty, sexuality, desire and girlhood in a way so few other writers do. A stirring, thought-provoking thriller." - Ashley Audrain, New York Times bestselling author of The Push
"This is Courtney Summers doing what she does better than anybody — revealing truths beneath the surface of what we think we know. I'm the Girl captures the glittering allure of beauty as power and the insatiable need of the powerful to possess beautiful things."- Angeline Boulley, #1 New York Times bestselling and Printz Award-winning author of Firekeeper's Daughter
"Bold, brave and unflinchingly visceral, I'm The Girl exposes the raw twitchy nerve at the emotional epicenter of girlhood with a message relevant for all ages: learning to understand the world in which we live doesn't mean caving to it. Summers is a singular voice, a feminist force, and a writer who plays by her own rules."- Chandler Baker, New York Times bestselling author of The Husbands
"Courtney Summers is a master of the thriller. Rarely am I as riveted or breathless as when in the throes of a Courtney Summers book. She's never let me down."- Nina LaCour, bestselling and Printz Award-winning author of We Are Okay, Someone to Watch Over Me, and Yerba Buena
"Scorchingly smart and on point, Courtney Summers' latest novel advances her even more fearlessly into the conversation about female autonomy, sexuality, and the damage wrought when young women try to win in a system rigged against them. Taut, unfiltered and unapologetically emotional, I'm the Girl digs in its nails and doesn't let go." - Paula McLain, author of When the Stars Go Dark and The Paris Wife
"A lightning bolt of a novel. Courtney Summers delivers a harrowing, hypnotic examination of feminine power, and feminine vulnerability; with unparalleled wit and masterful pacing, she explores the deadly cost of a young woman's desire. I truly could not put this book down." - Danya Kukafka, author of Notes on an Execution
"I'm the Girl is a stunner — tender, raw, and compulsively readable. This is a gutsy novel, one that takes risks and turns toward darkness while maintaining a delicate vulnerability. Courtney Summers writes teenage girls with the complexity they deserve." - Kate Elizabeth Russell, New York Times bestselling author of My Dark Vanessa
Praise for Courtney Summers:
"A riveting tour de force." - Kirkus (Starred Review) on Sadie
"Summers excels at slowly unspooling both Sadie's and West's investigations at a measured, tantalizing pace." - Booklist (Starred Review) on Sadie
"A heartrending must-have." - School Library Journal (Starred Review) on Sadie
"A taut, suspenseful book about abuse and power." - Publishers Weekly (Starred Review) on Sadie
"Flat-out dazzling." - A.J. Finn, #1 New York Times bestselling author of The Woman in the Window on Sadie
"A haunting, gut-wrenching, and relentlessly compelling read." - Veronica Roth, #1 New York Times bestselling author of Carve the Mark and The Divergent series on Sadie
"[A] deeply disconcerting investigative thriller that seems unassuming but worms under the skin and into the mind...Winding questions of faith and sacrifice into an already fibrous plot, Summers presents a rich offering that lingers even as it shocks." - Booklist (Starred Review) on The Project
"The beauty of the story lies in its focus on the downtrodden, the vulnerable, and the earnest, expressed with an enormous amount of empathy. A powerful, suspenseful, and heartbreaking thriller about identity, sisterhood, and belonging." - Kirkus (Starred Review) on The Project
"The propulsive, riveting novel that started it all." - Karen M. McManus, New York Times bestselling author of One of Us is Lying and Two Can Keep a Secret on Cracked Up to Be
"Cracked Up to Be was my first introduction to the vicious brilliance that is Courtney Summers. Right from the opening lines, that breathless hammering of beats that illustrate the terrifying and true experience of high school, I knew I was in the hands of a writer who would be honest with her readers, who would even be brutal. This book changed me as a reader and as a writer. I could never go back again. After being gutted by a Summers novel, why would anyone want to?" —Nova Ren Suma, #1 New York Times bestselling author of The Walls Around Us
"Cracked Up to Be is a blisteringly realistic exploration of high school and the trauma that can occur during adolescence. Its brutally honest portrayal of Parker Fadley and her world is unforgettable. A modern classic." —Brandy Colbert, award-winning author of The Revolution of Birdie Randolph and Little & Lion
"This book is a raw, exposed nerve: all the mess we shouldn't see, shouldn't be, wrapped up in the story of one unforgettable girl. Courtney Summers and Cracked Up to Be rewrote the rules and for that I am forever grateful." — Rebecca Barrow, author of This Is What It Feels Like
"Parker Fadley is THE seminal unlikable female character of modern young adult literature. One of my favorite books of all time, Cracked Up to Be is absolutely riveting from first page to last." - Laurie Devore, author of How to Break a Boy and Winner Take All