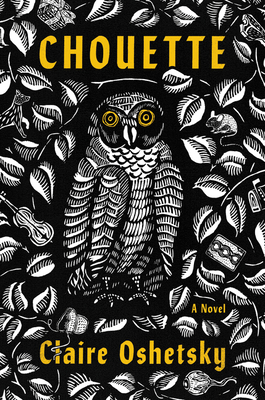 Chouette
Publication Date:
November 16th, 2021
Usually Arrives Within 7-10 Days
From the beginning I was rapt, unable to look away from what is exactly the definition of awe: terrible and beautiful all at once. Absolutely one of the best reads of my year.
December 2021 Indie Next List
Description
LONGLISTED FOR THE 2022 PEN/FAULKNER AWARD FOR FICTION
"Claire Oshetsky's novel is a marvel: its language a joy, its imagination dizzying." —Rumaan Alam, New York Times bestselling author of Leave the World Behind
An exhilarating, provocative novel of motherhood in extremis
Tiny is pregnant. Her husband is delighted. "You think this baby is going to be like you, but it's not like you at all," she warns him. "This baby is an owl-baby."
When Chouette is born small and broken-winged, Tiny works around the clock to meet her daughter's needs. Left on her own to care for a child who seems more predatory bird than baby, Tiny vows to raise Chouette to be her authentic self. Even in those times when Chouette's behaviors grow violent and strange, Tiny's loving commitment to her daughter is unwavering. When she discovers that her husband is on an obsessive and increasingly dangerous quest to find a "cure" for their daughter, Tiny must decide whether Chouette should be raised to fit in or to be herself—and learn what it truly means to be a mother.
Arresting, darkly funny, and unsettling, Chouette is a brilliant exploration of ambition, sacrifice, perceptions of ability, and the ferocity of motherly love.
Praise for Chouette
"Searing and ethereal…. [Chouette focuses] squarely on Tiny's fierce love as she battles her husband and nature to allow Chouette to be wild and exact, stakes that feel frightening and true to life…. A harrowing and magnificent fable." — New York Times Book Review
"Oshetsky's book is surrealism at its best…. "Chouette," which abounds with humor and lush imagery, forces parents to consider their relationship with their children…. The book has deep and universal resonance." — San Francisco Chronicle
"Weirdly funny and bold, this novel will make you look at maternal sacrifice in a new way." — Real Simple
"By turns poetic, gory, heartbreaking and strange…. An engrossing, surreal portrayal of motherhood." — NPR
"It would not surprise me if Chouette finds a place in the feminist literary canon. It has lingered in my mind in a way that only the most original works do. In its exploration of difference – of disability, of queerness – it feels truly modern, but in its themes of love and sacrifice, it is the oldest tale in the world." — The Guardian
"[Chouette] has one of those charming covers that call out to you from the shelves of the bookstore. And luckily, in this case, the novel does not disappoint, transporting you into a world both imaginary and strikingly real." — Campus Circle
"Viscous, tender, baffling, and glorious, Chouette is an unforgettable fairy tale that glitters darkly with Oshetsky's raw and soaring brilliance. Part love letter, part lament, Chouette astonishes as each perfected sentence burrows deep into the maternal shadows of love, possession, selfhood, and sanity. A bone-deep, breathtaking wonder."  — Rachel Yoder, author of Nightbitch
"Oshetsky's writing is virtuosic, laced with dry humor, and perfectly matched to the parable she unfolds…. A fever dream of a novel that will enchant fans of contemporary fabulism." — Kirkus Reviews (starred review)
"Chouette is deeply felt, linguistically gorgeous, and wonderfully disorienting up to its final breathless pages—a stunning meditation on motherhood and identity truly unlike anything I've ever read before."  — Claire Lombardo, author of The Most Fun We Ever Had
"A Dantean journey through the violent fever dreams of a woman in the trials of pregnancy and early motherhood…. No reader who has cared for a tiny human being will fail to recognize the battleground this talented author has conjured." — Publishers Weekly
"Claire Oshetsky's novel is a marvel: its language a joy, its imagination dizzying. Every time I thought I had cracked Chouette's central metaphor—aha, it's about motherhood! No, marriage! No, music!—the book flew out my grasp like a wary bird. It's a truly exhilarating read." — Rumaan Alam, author of Leave the World Behind
"Written in perfectly balanced prose, Chouette does what the very best fantastical work does: it renders a vividly absurd picture which, as we look closer, depicts our reality more sharply than any realism could do. Exuberant, maddened, and sly, this book gives more straight-talk about the vagaries of motherhood than a dozen how-to manuals." — Brian Evenson, author of Song For the Unraveling of the World